MINT CHOCOLATE FAT BOMBS + THE BENEFITS OF MCT OIL ON A KETO DIET
*We partnered with Great Lakes Gelatin Co. to bring you this post. All the information and opinions presented here are our own. 
Whether you're just looking to get started on the keto diet or you've been doing it for a while, there's some popular keto foods and ingredients that have a lot of buzz around them. One of them is MCT oil and it's one of the most popular products used by those on the keto diet today. And for good reason! MCT oil has lots of great benefits, and with scientific research to back up the claims, it's definitely a must-have for your keto-friendly and low-carb pantry. Keep reading to see what the benefits of MCT oil are and keep scrolling for our easy Chocolate Mint Fat Bomb recipe made with MCT oil from Great Lakes Gelatin Co!
What is MCT oil?
Also known as medium-chain triglycerides (fat molecules containing  7 – 12 carbon atoms), MCTs are a type of beneficial saturated fatty acid found in a variety of foods like grass-fed butter, palm oil, and full-fat yogurt. Coconuts are the richest natural source of MCT's and are put through a process called fractionation to extract the MCTs, resulting in MCT oil. 
Since the molecules in MCT oil are smaller in size than most of the fats we typically eat (long-chain triglycerides) they are much more easily used by the body and don't need to be digested the way typical fats do with digestive enzymes and bile. Instead they immediately get sent to the liver to be used as a type of energy for the body known as ketones.
Here's how it works: The ultimate goal of a keto diet is to help the body switch from running on glycogen (from carbohydrates) and get it to run on ketones (from fats) instead, which improves fat burning. If you're not giving the body carbs to run on it has no option other than to use stored fat. This state is referred to as ketosis. And MCT oil quickly boosts energy levels by increasing ketone production in the body and encouraging more fat loss. 
MCT Oil Fact: The main difference between MCT oil and coconut oil is their MCT content. While coconut oil is the richest food source of MCT's at 55-60%, MCT oil is 100% MCTs! One study in the American Journal of Clinical Nutrition found that that caprylic acid, a type of fatty acid in MCT oil is three times more effective at promoting the formation of ketones than those found in coconut oil alone.
What Are Some Reported Benefits of MCT Oil?
While on a ketogenic diet, MCT Oil can:
Help you prevent cravings, feel full and suppress your appetite between meals

Give a boost of energy

Add healthy fat to your diet easily

May improve metabolism, getting used immediately as energy in the body and does not get stored as fat

Help with weight loss and weight maintenance

May support mental clarity and cognitive function

MCTs are also cost-effective and easily portable
What Should You Look For In an MCT Oil? Why We Love MCT Oil From Great Lakes Gelatin Co.
Many cheap MCT oils are out there being marketed and sold as health foods but are actually processed using potentially harmful ingredients or methods. 
To know you're getting the best possible product, choose an MCT oil that is cold-processed from coconuts only and without artificial ingredients added to change the taste or texture. For the highest quality MCT oils, look for certifications like USDA Organic or Non-GMO Project Verified products.
This is why we love Great Lakes Gelatin Co. MCT Oil!
Great Lakes Gelatin Company's Organic MCT oil is: 
Made from cold-pressed coconuts and not palm, which contributes to deforestation and threatens endangered wildlife like the orangutan.

USDA Organic and never produced with the use of chemicals, solvents, preservatives, or additives.

Contain an optimal blend of C8 & C10 making it easily digestible and absorbed by the liver for increased energy and fat burning.

Flavorless for easy integration into your favorite recipes

Non-GMO 

Kosher
You can buy Great Lakes Gelatin Co. MCT Oil here!
How to Use MCT Oil
If you're new to MCT oil, start off slowly, to see how your body reacts. MCT oil may cause a bit of stomach distress for some and can take time to get used to. Try a teaspoon per day, slowly increasing over a couple of weeks to get your body acclimated. Eventually, you may be able to work up to a tablespoon several times per day. Some of the most popular ways people use MCT Oil are adding some to their coffee, tea, lattes, smoothies,  pre, and post-workout shakes, stirred into soups, added to salad dressings or drizzled over salads, veggies, or eggs. It's virtually flavorless so it can incorporate into anything without changing the flavor. Since MCT oil has a lower smoke point of about 320 degrees, it's best to use it for low heat or no heat cooking applications.
We Love to Use Great Lakes Gelatin Co. MCT Oil in our Mint Chocolate Fat Bombs Recipe
One of the benefits of the Ketogenic diet is that it keeps you so full from the increase in dietary fat that you can actually lose weight without counting calories or tracking your food intake. (1)  But that doesn't mean you won't get a sweet tooth or craving for some of your favorite comfort foods and flavors.
You can also make fat bombs with it! Fat bombs are bite-sized snacks filled with fats to keep you full and satisfied between meals on a ketogenic diet.
For an easy recipe, try our Mint Chocolate MCT Fat Bombs recipe made with MCT Oil from Great Lakes Gelatin Co!
Ingredients You'll Need to Make this Fat Bomb Recipe:
Stevia sweetened chocolate chips

 

OR

 

keto-friendly chocolate

 

OR

 

 low-sugar chocolate of choice.

 There's a lot of keto-friendly chocolate on the market now, but they can be a bit expensive. You can also use your favorite dark chocolate or other lower sugar chocolate variety. Unsweetened Baker's Chocolate is another option. Simply mix in some liquid stevia or other approved keto sugar substitute to sweeten to taste after you melt it

Great Lakes MCT Oil

 – This high-quality healthy oil will provide satisfying fat which helps to keep us full while fueling our brains and bodies. In this recipe, we'll be adding it to the melted chocolate as well as blending it with the dried coconut to make our fat bomb centers. 

You can get it here.

Dried unsweetened coconut

 

– We're going to be essentially making our own coconut butter with the MCT oil.  Most grocery stores carry this type of coconut in the baking aisle. Just make sure you don't grab the sweetened kind. There should be nothing but coconut listed on the ingredient label. 

Liquid Stevia sweetener

 

OR erythritol

 

– How much you use is up to you. Just sweeten the coconut to your taste preference. If you don't have a liquid stevia sweetener, simply substitute with your favorite keto-friendly-sugar substitute to taste. If using erythritol you may want to pop it in the blender for a few seconds to make it into a finer powder that won't give you a gritty texture.

Peppermint extract or flavor oil –

 

This will give us that cool and refreshing minty flavor to our fat bombs. A culinary grade peppermint essential oil can also be used.
Special Tools You'll Need for These Fat Bombs:
To make these Fat Bombs we used a Silicon Chocolate/Candy Mold, but mini or standard cupcake liners (silicone or paper) will world too. Even a silicone ice cube tray will work just as well.
Get The Recipe!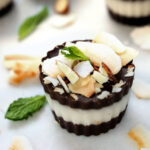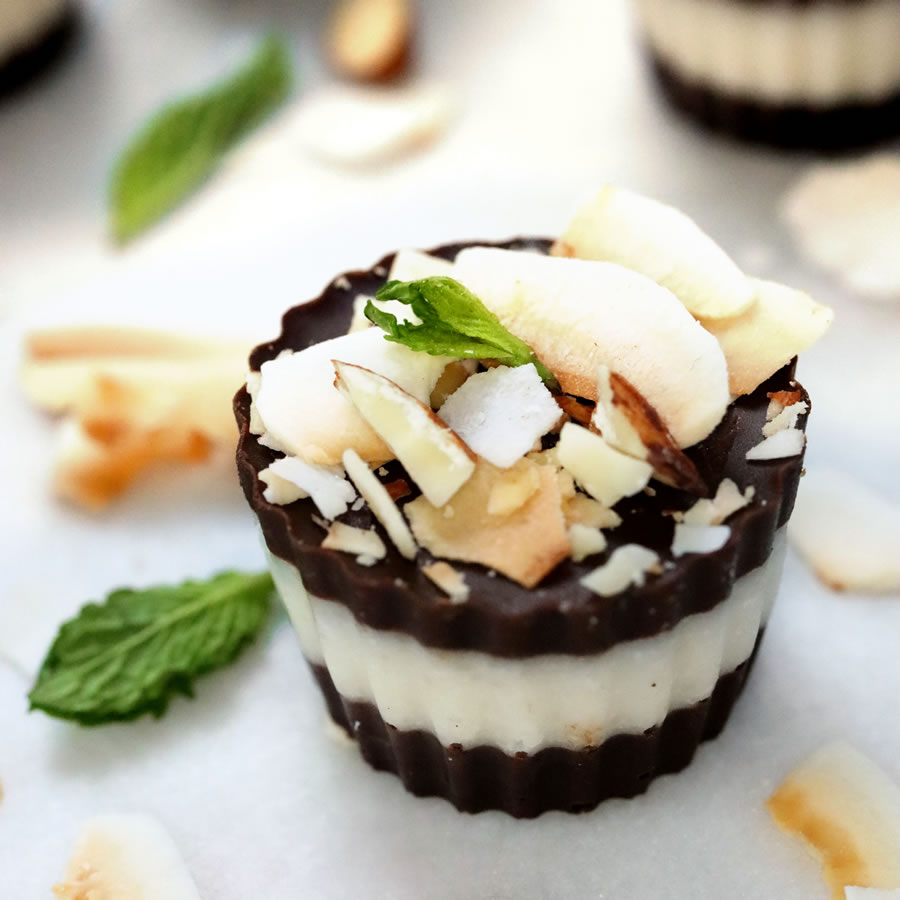 Mint Chocolate Fat Bombs Recipe
These easy and layered chocolate and mint flavored fat bombs with MCT oil will be sure to keep you feeling full and satisfy your sweet tooth, while supplying a dose of healthy fats
Keyword:
chocolate, fat-bomb, healthy dessert, healthy ice-pops, manuka honey, lime mint popsicles, all-natural ice-pops, keto-friendly, low-carb
Ingredients
Dark Layer
20

 

oz

 

Stevia sweetened chocolate chips or other low carb chocolate chips of choice

1

 

tbsp

 

Great Lakes Gelatin Co. MCT oil
White Peppermint Layer
1

 

cup

 

shredded coconut, unsweetened

 

(coconut flakes will work)

2-3

 

tbsp

 

Great Lakes Gelatin Co. MCT oil

2 1/2

 

tsp

 

peppermint extract

liquid stevia or erythritol
Optional Garnishes
toasted or raw coconut shreds (unsweetened)

toasted or raw chopped almonds
Instructions
Set up your chocolate molds on a baking sheet or line 24-count mini muffin pan, 12 standard sized muffin pan with paper or silicone muffin liners. Set aside.

Place the coconut in a high speed blender and process for 1 minutes until completely pureed. Add 1 tablespoon of MCT oil and process another minute or until the coconut mixture is pureed into a smooth texture similar to peanut butter. If your coconut is still dry, continue adding MCT until it is smooth, but not runny. It should stick to your spoon. Add the peppermint extract and sweetener to taste. Set aside

Place the chocolate a microwavable bowl and cook for 30 seconds. Give it a stir and repeat a 2 to 3 more times until chocolate is melted. Be sure not to burn. When chocolate is melted, add the MCT oil and stir to combine.

Spoon a little bit of chocolate on the bottom of the chocolate mold or lined muffin tin. It should be just enough to cover the bottom. Place in the freezer for 5-10 minutes to harden.

Next, Spoon a teaspoon or two (depending on the size of your mold) of the coconut mixture on top of the hardened chocolate bottoms. Place in the freezer for 5-10 minutes to harden.

Finish the fat bombs by topping with the rest of the melted chocolate. Then top with optional garnishes like crushed toasted almonds or coconut shreds. Place in the freezer to harden one more. Eat 1 or 2 fat bombs any time you get a craving for something sweet in between meals. Enjoy!
On a ketogenic lifestyle journey? Great Lakes Gelatin Co. MCT oil and MCT powder are an all-natural way to manage your weight, help curb cravings and keep you keto!
Visit Great Lakes Gelatin Co. for more info, recipes and tips on using MCTs!
Looking for more keto-friendly MCT recipes? 
Then check out these Keto Raspberry Lemon Waffles made with MCT powder!
Written by: Heather LaCorte @BetterLiving